Josh interviews Lauren-Brooke Eisen of the Brennan Center for Justice about her new book "Inside Private Prisons."
Full Episode
My Guest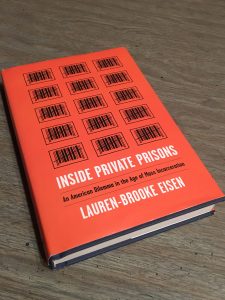 Lauren-Brooke Eisen is a Senior Counsel at the Brennan Center for Justice.

Notes From Episode 5
Inside Private Prisons
Virtually all of the questions that I asked were inspired by what I found in Lauren-Brooke Eisen's book, so there will not be any additional citations this week. But, if you want to learn more about Lauren-Brooke's work, you can check out much of the rest of her work at the Brennan Center's website.
The Reverse Mass Incarceration Act
I am particularly fond of her pamphlet describing the "Reverse Mass Incarceration Act" which has been turned into legislation which  is currently pending in the United States Senate.
Thanks very much to Lauren for letting me interview her for the Decarceration Nation podcast!
Thanks for listening,
Decarceration Nation is a podcast about radically re-imagining America's criminal justice system. If you enjoy the podcast we hope you will subscribe and leave a rating or review on iTunes. We will try to answer all honest questions or comments that are left on this site. We hope fans will help support Decarceration Nation by supporting us from Patreon.