Josh discusses his #Bars2Ballots plan for ensuring formerly incarcerated people vote and vote in elections only for candidates who support criminal justice reform. Blah
Full Episode
Notes From Episode 17
Preview
Transcript
This is a full transcript of Episode 17: Bars2Ballots
The Constitutional Barrier to Voting
The 14th Amendment to the Constitution allows states to deny incarcerated or formerly incarcerated folks the right to vote.
The 14th Amendment does not prohibit states from restoring these voting rights.
Poor People Don't Vote In Elections
I quoted two articles about poor folks not voting, first was an article from The Guardian and second an article from The Root.
We need to work on encouraging people to vote and at ensuring we vote in our own self-interest.
Medicaid Work Requirements Don't Work
I have written two pieces about Medicaid Work Requirements.
The first article was about the history of work requirements in general and the second article was about the bill inserting work requirements into Michigan's Healthy Michigan plan.
I also made a reference to research from the University of Michigan published in the Journal of the American Medical Association.
Democratic Party Nominating Convention
The event I mentioned was the Democratic Party State Endorsement Convention at COBO Hall in Detroit.
There were 6.700 delegates present.
The main controversies were the endorsement of an all-white ticket and, in my opinion, the failure to mention Medicaid Work Requirements or the need to stand up for poor folks.
Bars 2 Ballots
The hashtag is #Bars2Ballots. Here is a quick explanation of the basic plan: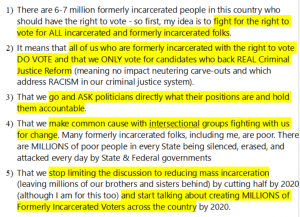 I also wrote this recent article laying out the central premises of the #Bars2Ballots campaign.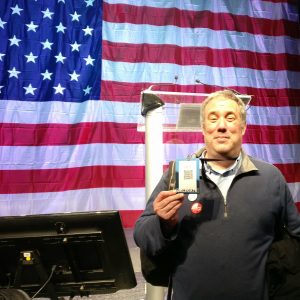 Decarceration Nation is a podcast about radically re-imagining America's criminal justice system. If you enjoy the podcast we hope you will subscribe and leave a rating or review on iTunes. We will try to answer all honest questions or comments that are left on this site. We hope fans will help support Decarceration Nation by supporting us from Patreon.