Joshua B. Hoe interviews Maurice Chammah about his book "Let The Lord Sort Them: The Rise And Fall of the Death Penalty"
Full Episode
My Guest – Maurice Chammah
Maurice Chammah is a journalist and staff writer for The Marshall Project. His reporting on the criminal justice system has been published by The New Yorker, The New York Times, The Atlantic, Esquire, and Mother Jones. He lives in Austin Texas where he and his wife organize the Insider Prize a fiction and essay contest for incarcerated writers, sponsored by American Short Fiction. He is also the author of the book "Let The Lord Sort Them" published by Crown Publishing.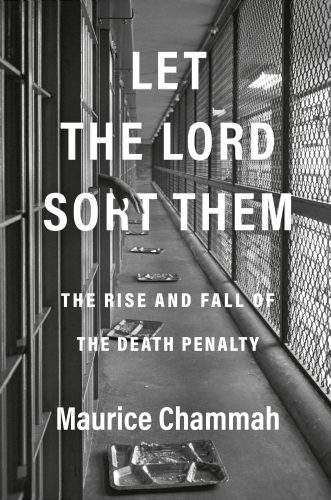 Notes from Episode 104 – Maurice Chammah
The books that Maurice recommended were:
Among the Lowest of  the Dead: The Culture of Capital Punishment by David Von Drehle 
Tangled Up in Blue: Policing the American City by Rosa Brooks
Full Transcript
Joshua B. Hoe
Hello and welcome to Episode 104 of the Decarceration Nation podcast, a podcast about radically reimagining America's criminal justice system.
I'm Josh Hoe, and among other things, I'm formerly incarcerated; a freelance writer; a criminal justice reform advocate; a policy analyst; and the author of the book Writing Your Own Best Story: Addiction and Living Hope.
Today's episode is my interview with Maurice Chammah about his book, Let the Lord Sort Them: The Rise and Fall of the Death Penalty. Maurice Chammah is a journalist and staff writer for The Marshall Project. His reporting on the criminal justice system has been published by the New Yorker, The New York Times, The Atlantic, Esquire and Mother Jones. He lives in Austin,Texas – a place I've visited many times – where he and his wife organize the Insider Prize, a fiction and essay contest for incarcerated writers, sponsored by American Short Fiction (americanshortfiction.org). Maurice is also the author of the book – which we'll be discussing today – Let the Lord Sort Them, published by Crown Publishing. Welcome to the DecarcerationNation Podcast Maurice.
Maurice Chammah
I thank you for having me.
Joshua Hoe
Oh, my pleasure. I always start with the same first question, which is kind of the comic book origin story question. How did you get from wherever you started to where you were working with the Marshall Project, and writing a book about the death penalty?
Maurice Chammah
Sure. So I grew up in Texas, and really did not think much about incarceration or criminal justice. When I was younger, and when I first finished college, I moved back here, mainly to be a musician, and just fell into a job working for a tiny little nonprofit that's called the Texas After Violence Project. It was founded by a defense lawyer who worked in death penalty cases, who wanted to build an archive of first person testimonies around the death penalty. So family members of people who had been executed, family members of murder victims,
prosecutors, defense lawyers, etc. And as part of that work, I basically drove around Texas, with a video camera and partner, and we would interview people about their experiences with the death penalty. And I was just very suddenly immersed in this world that I knew nothing about and found very fascinating and very emotionally haunting. It was much more viscerally intense, I think, than the sort of more abstract research I had done as a college student, sort of abstract theoretical reading about things. It just felt like, Oh, this is real life now. And I spent a year doing that and realized through that work, that I wanted to be a journalist. That was kind of my way of contributing; I really liked writing and thought that I could use the fact that I liked writing to try to contribute to larger public conversations about policy and politics and various things. So after that job, I started interning at various small news outlets. I interned for a long time at the Texas Tribune, which is a great nonprofit news outlet in Austin. And then, because I had had that early experience driving around the state and interviewing all these prosecutors and defense lawyers, I just knew who to call on for various stories, and I would see stories in the criminal justice sphere before others and would pitch those stories. And I should say that often when I was doing those interviews, a prosecutor would tell me about their tactic for convincing juries to sentence people to death, or a defense lawyer would take me into the arcane world of habeas law. And so I would have little tidbits of insight into how this whole system worked. And as I became a journalist, I would use a new story about an individual case, or something to learn about another kind of systemic issue, and over time, just sort of built up the different issues that I knew a little bit about. And then one day, a fellow reporter said, hey, I've heard about this thing called the Marshall Project. It's just been announced, it hasn't launched yet. I went to the website, and it really just had an email address, info at the MarshallProject.org. And I emailed, and that led into conversations with the editors there and eventually to a job. And I have now been there for about six years and expanded out from just working on death penalty stories. I do a lot of different stories about the whole range of the criminal justice system, but have kept on the death penalty beat as well. And that of course, led up to the death penalty book.
Josh Hoe
You work with some great folks. Do you want to talk a little bit about the Marshall Project in addition to what you've already said?
Maurice Chammah
Absolutely. So the Marshall Project is a small – well, I always used to say small – and now, there's I think more than 30 people working there. So it's growing. It's a nonprofit news outlet; we just do criminal justice reporting. So some of us are more focused on policing, some of us are more focused on courts and prosecutors, prison conditions. I have a colleague, Keri Blakinger, who has sort of become the – I would say – the leading expert on how to report on prison conditions. She focuses on Texas where we both live. But we now have a staff of reporters that's scattered around the country; we have tech people and the nonprofit development people too, making all the wheels turn. We just churn out investigative stories about the system, but also more data-driven reporting, and also more magazine-style features, which is more what I specialize in, all of which is towards the goal of the mission statement, which is to create and sustain a sense of national urgency around criminal justice. So we don't purport to know what all the solutions are. But we report aggressively on the problems and also present readers with some of the solutions as they develop as experiments throughout the country.
Josh Hoe
You actually kind of jumped my question there. My next question was going to be do you have any good Keri Blakinger stories.
Maurice Chammah
Oh, man Keri has been at the Marshall Project for oh, I want to say maybe more than a year. But in my head, she's still fairly new. But that's not really fair. And she came to us from the Houston Chronicle having, you know, done everything – [she] convinced, through her reporting, basically made it so that men in Texas prisons were getting dentures. Many of them had been living for years just having liquid food, which I found just a really kind of visceral thing. But all the time we get on the phone, and she'll just say, Oh, I just got this text from a guy inside, or Oh, I just got this, this video from this guy inside and look what it shows. And it's just like, so out there. And it's like, how did you know this person? How do you have this whole source network of incarcerated people with cell phones who are sending you stuff? I am kind of consistently blown away by how she manages to use the sort of insights from her own time incarcerated to drive the reporting and the kind of sideways creative ways that she gets information. It's really pretty amazing.  And I don't know when she sleeps, frankly.
Josh Hoe
I'm always worried because she gets so much bad news, which working in Texas . . . in Michigan, we've been able to get some things done. . .  in Texas that can get pretty  . . .  as we'll talk about more in a second . . . I lived in Texas for a long time, and a lot of the identity seems to be tied up in tough on crime. How do you get through the years doing this work in Texas, with not always seeing a lot of results in terms of change?
Maurice Chammah
Well, I will say that when I first started reporting on the Texas criminal justice system, it actually didn't look so dark in the sense that, you know, we did have one of the highest per capita rates of incarceration, and the prison system the prisons were huge, and there was plenty of injustice. But at the same time, there really was a movement in the Texas Legislature starting around 2007- 2008, to try to turn a corner. And, you know, there were a handful of bills in those years that would have chipped away at at least the incarceration of people for low-level nonviolent crimes. And even more than that, the bills were themselves the product of collaboration between Democrats and Republicans. Texas was one of the first states where you saw the kind of bipartisan criminal justice reform idea developed before it went up to Washington and turned into the First Step Act. And, you know, Texas was the laboratory for all the kinds of compromises and issues that come up in those debates. That was around 2008-9, and then you got into 2010, 2011, 2012, 2013, when I was really getting into this reporting, and there were a lot of bills that didn't decarcerate, but they sought to protect innocent people who were accused of crimes. There was something called the Michael Morton Act, which was all about prosecutors handing over information to defense lawyers before trial; there were bills to make it easier for people convicted on fraudulent science to have their claims heard in appeals courts; there was a lot going on, and obviously it left a lot to be desired, but it felt like oh, things can happen here. And I want to say as that bipartisan criminal justice conversation moved up to Washington, it's sort of stopped here. And I don't know the full picture of why that is; Keri might have some insights. But it kind of feels like a lot of other red states started passing criminal justice reform bills and Texas, having lived on the fumes of being the leader and sort of celebrating itself for being the leader in this realm for a while sort of stopped playing any role in it. And so now we're in this kind of weird place where the prison system is still huge, and the problems are still intense. There's a few more protections for defendants than maybe exist in other states, but I still hold out hope that it's a place where a lot can happen when the right players all come together. Because I've seen it happen in the past.
Josh Hoe
Before we get to the book, can you tell us about the Insider Prize?
Maurice Chammah
Oh, yeah. So the Insider Prize is a contest for incarcerated writers to write fiction and essays. And I work on it with my wife, Emily, who is herself a fiction writer. And the idea for it actually came from a really brilliant, innovative writer named Deb Olin Unferth, who's a creative writing professor at the University of Texas in Austin. But she separately started teaching creative writing classes, I think in the Connally Unit, a couple hours south of Austin, the TDCJ prison. And she has this really exciting network of writers there who have nurtured their talents and created workshops together and are themselves even going on to teach other incarcerated people writing skills. And Deb said, You know, I have these guys, these writers. Often when you know you want to submit work to a magazine or a literary journal, you have to use the internet. And they don't have access to some of that. There's one really great, well-known writing contest for incarcerated people put on by Pen America (www.pen.org), but we just need there to be more things that these writers can submit to. And Deb and I knew each other through working with this small, really great literary journal here in Austin called American Short Fiction, and they agreed to sponsor the contest. And so now, what happens is, I think we're coming on the fifth year of it. And each year, we get dozens of submissions from Texas prisons and jails and even federal facilities within the state. Maybe someday we could go national, but keeping it to Texas was what felt sort of manageable when we started. And we have a panel of readers who go through the work. And then the actual winners are selected by a guest judge and the guest judges have been well-known, exciting writers like Joyce Carol Oates, and Justin Torres. Mitchell S. Jackson is going to be our judge this coming year. And so yeah, it's been an incredible experience. I think the thing to say about it is that so much of the reporting we do at the Marshall Project, and just my daily life, in immersing myself in this system, is so depressing. And it's so much about interviewing people inside about the problems they're facing with being in prison and jail, and the injustices of their criminal cases, etc. The emphasis is on the problems, which I think is right, but it also can make it feel like that's all there is to it, that that's the entire experience of being in prison. And I have now come to see, through this contest, just how much incredible creative energy is inside of these facilities that is being wasted as people spend their years incarcerated. And this contrast just feels like a small way to continue highlighting for the public the fact that it's not all doom and gloom, because there's human beings there. And anywhere there's human beings, there's hope and creativity and really powerful communication. So that's our small contribution to the larger effort and we've been really proud of it and excited for the future of it.
Josh Hoe
So you know, with all the work you've done, and with the Insider Prize, you might have some insight into this. Recently, there was a poetry magazine that put out an issue all from currently incarcerated, I believe, poets, and there was a huge backlash because a couple of the poets happened to have done something that people perceive to be beyond the pale. You know, I feel like one of the real problems with the mainstream press is that there aren't a lot of voices, you know, incarcerated voices and formerly incarcerated voices included. Do you have any thoughts about the controversy and bridging that gap, since you do work in this area?
Maurice Chammah
I have so many thoughts. And so it's just a matter of organizing them in my brain very quickly so that they sound logical and not just like a total explosion of feelings. Yeah, I was very troubled by that whole episode in which the poetry magazine was hounded by, I guess what you could call, literary Twitter, which as I said before, my wife is a fiction writer and very connected to the world of literary writing. And so I follow a lot of people on what you could call literary Twitter. And there was this whole sense that the poetry magazine was maybe doing the right thing by highlighting the voices of incarcerated people, until there was a person that these commentators, people at other literary magazines felt did something so bad that they should not be included in this collection, and that their poems should be cast away. And I found the letters that were coming out about this, to have really, frankly, kind of tortured logic. There was a lack of clarity about what they were even trying to say, because there was the sense of like, well, the man who did this really terrible thing, he's white. So now we're gonna argue that, because he's white, he's taking the place that should have gone to a black and/or brown incarcerated person. But then I found myself wondering, Well, what if it was a black prisoner whose crime was a terrible rape and murder? And you know, that's not all he's ever done. And now he has really incredible poetry or fiction to share with the world. How do we navigate that as readers and as the public? And I think what what I saw in that response is this idea that for all the talk of criminal justice reform, there's an incredible amount of work to be done in terms of the philosophical turning of the Titanic in a new direction, because we can all say that we're for reform, and it's easy to feel like you're for reform when it's about letting someone who was arrested for some marijuana out of prison, but then, as you inch up towards clients that were violent, we still have a gut instinct of revenge against someone, especially when it's a sexual crime, even more when it's a sexual crime against a child, as I believe it was in this poet's case. And I think that as a society, we have to really have these debates and be clear about what we're saying. Is it about race? Is it about mercy? What are the different lines that we're going to try to draw in terms of our collective sympathy? And should we be even drawing those lines, or should we say, sympathy is always something that we should be able to offer to people no matter what they've done? I should say that institutions like the Marshall Project, or American Short Fiction, or this poetry magazine also have a delicate road to travel in that when they publish work by an incarcerated person, they have to choose whether or not to include what that person is incarcerated for. And they also know that any reader could Google what this person did as well. So even if they don't publish it, there are routes for  – unless people go by pseudonyms, which has its own issues – their names are public, and their crimes are public, and people can look into it. And I felt like in the poetry magazine's case, they didn't publish what the person did. And people Googled it, and then they got very angry. At the Marshall Project, we tend to publish what they did. And although we've gotten a lot of flack for that, I also see the ways in which readers then don't feel duped, and there isn't a sense that they're just going to go Google what someone did, and then get mad at the Marshall Project for not being direct about it. So these are very complicated questions, and that poetry magazine incident was kind of a flashpoint showing just how complicated they remain. Can I ask you how you felt about it?
Josh Hoe
Well, as a formerly incarcerated person, with one of the offenses like that, it was interesting to watch. I feel like we really either need to decide whether we think people are more than their worst moments, and that people can change, or we don't. If we don't, then we need to be pretty clear about that, and basically lock up everyone forever – or whatever we're going to do. And if we are going to change, we should start investing in that change, and start trying to ensure that people come back better than when they left, or however we can create change, as opposed to locking people into one moment in time forever, or multiple moments in time. I'm not trying to forgive anything bad that anyone did. I think accountability is really important. I've tried to put that up front in my own work. And I agree, it's a complicated thing. But, part of the question I asked was also about the place for incarcerated and formerly incarcerated people to have voices in that process, and in the discussions. Did you have any thoughts about that?
Maurice Chammah
Yeah, absolutely. I mean, I think that it doesn't work unless they have a voice in it, because people who have been incarcerated for – let's just set aside, you know, small drug crimes where as a society, we've almost even moved on from the idea that these are violations of a social order. I mean, just talking about serious crimes of violence that everyone generally agrees were extraordinarily harmful to an individual. You know, there's no one way forward. And I think that people who have been incarcerated who have committed these crimes know the most intimately what accountability looks like for themselves, right. I mean, I think a myth about the criminal justice system that I had before going into it  – maybe if you asked me when I was in high school or something, I would have said – Oh, those people don't have remorse. And it was almost like a cliche of court reporting, that it would always say the defendant showed no emotion as he was sentenced to so many years.
Josh Hoe
And yeah, that's because people are totally shell-shocked when they're standing up there. I've been there.
Maurice Chammah
It's funny, shell-shocked and psychopathic look the same on your face in that moment, right? I mean, there's so much sort of pop, or instinct psychology,  that we apply to these situations that doesn't have any bearing on reality. And in my actual experience, reporting on the criminal justice system, I see remorse everywhere; people are constantly talking about how horrible they feel about what they've done, [while] simultaneously feeling like the system treated them poorly, right. But both things can be true at the same time. And if we really engage incarcerated people and make them feel like they don't have to be defensive and angry and can just sort of be open and thoughtful about accountability, you see that you can actually, get into a real kind of conversation. I mean, one anecdote that just comes to mind is I was working with an incarcerated writer on his own writing; he was writing essays about his experiences, he had been convicted of a murder that had gotten him sent to death row, and there was no doubt about his guilt. And in his writing, he was just not addressing the crime at all. And I said to him, you don't have to address it, but I'm curious, just between us, why you're not. And he explained that he felt like no matter what he said, people would respond as readers negatively and not take him at face value, and always be looking for ways to turn them into a monster, if you open that door. And my thought was, Well, look, you can't even engage in that conversation, unless you think about it openly and in public. And of course, you don't have to . . .
Josh Hoe
It's kind of a weird deal. You know I pretty much put it out there. It's in my profile; it's on everything I do. But at the same time, it's totally exhausting. And I don't mean that in the sense that I don't want to be accountable. I mean that in the sense that it's used in every possible way; not everything I'm talking about is about that.
Maurice Chammah
Right, no, you're totally right. And, I think that it's worth drawing some lines here. I've met formerly incarcerated people who go on to work in the world of criminal justice advocacy, and their former incarceration, and the thing they were incarcerated for is just a snippet of their bigger biography of what drove them to the subject. And I don't think that it has any role in  . . .  I think it must be incredibly exhausting to have to bring it up over and over again, and have people ask you about it. In the case I'm thinking about it was . . .
Josh Hoe
It's also re-traumatizing. I mean, people don't understand that there's a lot of pain in the process of coming back from this stuff and in working through all of your issues and having to constantly go back to that place. And being asked to do it in a way that's usually pejorative where someone's trying to make you look bad is . . . it's tough, man. I mean it's not an easy gig.
Maurice Chammah
Yeah, I don't doubt it. And I can't speak to it directly in a first person way. But I guess what I'm trying to tease out or I'm curious about is . . .  I'm curious, are there times in your life where you're out in the world doing your work, and the fact that you're formerly incarcerated or committed a crime or anything doesn't even come up at all? That you can just sort of have an independent experience totally beyond that?
Josh Hoe
Sometimes it's not, but there's a lot of people who, it's part of the identity, and part of what you do for your job and part of what you do  . . .  you're representing formerly incarcerated people on panels. And so it's a big part of a lot of what you do. And then when you're not doing it, sometimes it becomes a big part of what you do, too. And sometimes you do get some moments where it's not, and that's nice. So I won't lie; that's a nice break. But it's tough, like I said, it just gets exhausting sometimes, because Maurice Chammah4 hours a day, seven days a week, you're not really, totally engaged in the process of reliving the worst thing you've ever done, or the worst things you've ever done. That doesn't mean that you're not concerned with it, or you don't care about it. It's just, it's a lot to ask someone to live in that moment 24/7.
Maurice Chammah
Yeah, and, you know, that reminds me of the book. So, just to set it up, I mean, this book I recently published about the history of the death penalty. I focus very closely in one chapter on the experience of a man on death row. And I don't shy away in the book from explaining the murder that he committed. But when I was interviewing him, both in person and through letters, he would talk a little bit about the crime and a little bit about his remorse, but he didn't really want to go deep into it. And that  – as a reporter, as somebody who wants to tell his story to the world  – frustrated me. But then there was a moment in the research where I said, Wait a minute, you don't owe me that. And that's so presumptuous of me to think that you owe me that. Right. And that was a real learning experience for me that I think I've tried to take into other situations that sort of, after people have been through the horrors of incarceration, like the smallest little, baby gift that some of us can give is the right to not talk about it, or the right to forget about it for a little while and have your identity be more than just this big defining thing.
Josh Hoe
I mean, I always look at this. So there was this riot in South Carolina, the Lee Riot, at the Lee Correctional Facility in South Carolina, and eight people died. And I'll always remember the papers afterwards, they listed all the people who died, all the incarcerated people who died, and all they put was their crime. And I'm like, man, what I want to know is, I want to hear from their family, who else, what else were they? What else do I want to know about them aside from that? I mean, yes, that's part of their story. But it shouldn't be their whole story. I don't want to go on too much about this, especially since we're ostensibly talking about your book. So let's, let's actually get to the book. Your book starts with Texas – [with] Warden Jack personally bringing the staff of this prison together to shock them with the news that they'll actually have to execute someone. Having lived in Texas for a long time, I feel like this has to have been a long time ago. How long ago was it, the executions were still rare in the state of Texas?
Maurice Chammah
This shocked me too. I mean, Texas, like every other state basically turned away from executions in the 1960s. They just stopped for a number of years and almost disappeared. And then throughout the 70s, there were no executions in Texas. So that anecdote from the book is, I opened the book with it, because it's the kind of signal moment that the death penalty is going to return to Texas and return in a big way. And that's in 1982. A decade before that, the Supreme Court had ruled that all the death penalty laws and states across the country have violated the constitution and a bunch of states that wanted to keep the death penalty went back and rewrote their laws. Texas was one of them. And there was really this sort of era of, you know, these cases, percolating, people went to death row, their cases went up through the appeals courts, the Supreme Court would hear them, but there was this question of like, are executions actually going to happen? Are we going to have the death penalty just be a theory, an abstraction? We send people to death row, but we're never actually gonna actually execute anyone? Or are we going to really crank up this machinery and have execution chambers and kill people? And that moment in 1982, was so shocking, I wanted to capture how shocking that was, for people to say, Oh, no, this isn't an abstraction anymore. We are actually going to kill people and what are all the costs of that going to be?
Josh Hoe
So how did the death penalty go from rarely used to ubiquitous and even associated as part of the Texas identity? You even mentioned Rick Perry basically vetoing a bill that would have stopped people with mental incapacitation from being executed.
Maurice Chammah
So in Josh Hoe98Maurice Chammah, the death penalty returns to Texas and it's the first lethal injection in the country, there have been a few executions in the years leading up to to that. But to take it back just a little bit and set it up, you know, executions had been a part of American history since the founding of the country, something we inherited from Britain. But throughout the 1960s, executions basically disappeared, largely because civil rights lawyers were doing such a good job of stopping them. And you really saw the political appetite for them go away, there was this large downturn. It's also worth keeping in mind that Canada and England and much of Europe and Australia, were all turning away from the death penalty at the same time. But America strayed from everyone else strayed from the pack in 1972, when, as I've said, the Supreme Court in a case called Furman v. Georgia, rules that all the death penalty laws around the country violate the constitution because, speaking broadly, they're arbitrary, that getting the death penalty has nothing to do with the details of the murder you committed, it's just a sort of a random lightning strike. And that's the metaphor that they use. And this produces a huge backlash. So this is the era where the Civil Rights Movement has had a lot of gains. And in the south, in particular, there's a lot of anger about that, among white Southerners, that's very tied in and connected to a sort of simultaneous trend of the states feeling like Washington, in particular, the Supreme Court, is robbing them of the ability to fight crime. In the book, I focus a couple of paragraphs on the movie Dirty Harry, which came out in the early 70s, and captures the Zeitgeist of this cop who's trying to get the bad guy, but because he doesn't offer Miranda warnings, or he seizes the evidence without a warrant, it all gets thrown out. And the serial killer goes free. This was the way that people were thinking about crime in the early 70s.
Josh Hoe
And the other end of that was Bernie Goetz, the vigilante stuff.
Maurice Chammah
That's right. So there was a sense that if the government's not going to take care of crime, we're gonna have to do it ourselves. And so you see vigilantes like Bernie Goetz in New York, who I believe shot several young men on the subway and are celebrated culturally. And that backlash really explodes after the Supreme Court rules against the death penalty. And the Supreme Court doesn't say the death penalty can never exist again, just that the current laws are wrong. So this is an invitation to state legislators to go and rewrite their laws and bring the death penalty back. And there's a surge of popular support for the death penalty. So as I said that executions were disappearing in the 60s, the line of public support – if you look at the graph of public opinion polls – was also going downward. And then right after that Supreme Court decision in 1972, it zooms back up. And the way I phrased it in the book, I think, is that people didn't realize they liked the death penalty until they were deprived of it. And then over the course of the 70s, 80s and 90s, the death penalty becomes more and more popular. There's more and more death sentences and executions. And Texas is at the center of that; it's responsible for roughly a third of all the executions that happened in those years. And the book explores the reasons for that. I would say I divided it into practical and cultural reasons. The practical reasons are that at every level, you had courts that were interested in speeding executions along; they were very conservative courts, judges were elected. And so they campaigned even on being tough on crime. This was not true in other states necessarily. So you know, in other states, there might be one court here or there, or a governor's office that kind of stops the treadmill and slows down executions. But in Texas, every single one of these institutions was working in lockstep. And Texas, also in 1973, had written a law, as I said, responding to a Supreme Court that was especially punitive, especially harsh, made it especially hard for death row prisoners to get certain kinds of claims that would elicit mercy into court, and the Supreme Court allowed that state law to stand and that helps produce Texas's role as the at the epicenter of executions. All of that then starts to feed into what I consider the other sort of bucket of reasons which are cultural, and you get a kind of a feedback loop where the state's political culture is all about appearing tough on crime; this was true in other southern states as well. But it was really true in Texas that you'd have people running for governor and debating on the debate stage who's the most pro-execution, bragging about attending executions, overseeing executions. And Texans as voters continually vote these people in but also see it as part of their own state's identity to be very pro-death penalty. And this, I argue in the book, stems from a deeper cultural history of feeling like we're a frontier state where we take care of our problems with the noose in the Courthouse Square, rather than through the legal system, that there's a strong tradition of vigilantism and frontier justice. And we can of course talk about it further. But I end up arguing that this is almost a smokescreen for race and racial inequality and where in Alabama and Mississippi there's a clearer sense that the death penalty is tied up with the history of racially-motivated lynchings, in Texas we have another story that we can tell about the frontier that allows us to paper over the more grisly and troubling reality.
Josh Hoe
There are several central characters in the book: Danalynn Recer, Anthony Amsterdam, James Grigson, Elsa Alcala. Would you like to talk about the approach you took to writing the book and also about how you chose these particular folks to represent the different constituencies that you're going to talk about?
Maurice Chammah
Absolutely. So this is actually one of those fun things to talk about for me, because it's where the real sort of craft of trying to write the book comes into the foreground. And I knew I wanted the book to be about people. The point of the book was to show readers that the death penalty is a real life system with real life people in it, as opposed to the way the death penalty often gets talked about, which is in very abstract terms. When I was growing up, you would always hear debates about the death penalty framed in terms of the Bible says, an eye for an eye, or the Bible says, thou shalt not kill, or maybe a professor says that it deters crime. And another professor says it doesn't. it was always these very abstract ways of talking about the death penalty. But I had come to learn from my reporting that it's actually a system that involves all these different people playing different roles, some of them more noble than others. And everybody who's touched by the system in small and big ways comes out of it with some trauma. And I wanted to foreground the trauma that people experience. So knowing that that was the approach, I then had to choose people to be the ones the reader follows into the world of the death penalty. And this is probably what I spent the most time on at the earlier stages thinking about. And there were a few people who had to play a fairly large role in the book because their role in the Texas death penalty was so outsized. I'm thinking of Anthony Amsterdam, who was the civil rights lawyer who argued these cases at the Supreme Court in the 1970s. There was James Grigson who is a forensic psychiatrist who got the nickname Dr. Death because he testified for the prosecution at so many of these trials arguing that people would be dangerous in the future if they were not sentenced to death, and basically scaring the jury into giving them death sentences. Johnny Holmes, the longtime district attorney of Harris County, which is Houston, which was the epicenter of the death penalty in Texas, which was of course itself the center of the death penalty nationally. So Johnny Holmes was the prosecutor most responsible for the death penalty's leading role in the state. So those people had to be on the hook because they played an outsized role, but then I wanted to have people that the reader maybe had never heard of before, who could just speak to the trends and the dynamics, and I'll just briefly give a sense of two of them. One is Danalynn Recer, who is a defense lawyer. And through interviewing her in the past, I had learned that before she defended people on death row, she was a young graduate student studying the history of lynching. She was working on a Master's and then a PhD thesis about why Texas had had so many lynchings, [of] primarily black men, often accused of rape, in the late 19th, early 20th century; and Recer really saw the continuum, the connections between that history and the contemporary death penalty, and I thought that using her story would help readers see those connections. And then Recer, deeper in her career said, No, I don't want to just defend people right at the very end when they're on death row and about to be executed, and we're doing everything we can at the last minute to stop the execution; I want to go back in the process and stop them from getting sentenced to death in the first place. And she does that and she shifts over to trial [law]. And she manages to convince many prosecutors and juries in really dramatic ways that people don't deserve the death penalty. Her individual clients don't deserve the death penalty. And I thought that that career trajectory, which was very unique, spoke to the way in which the death penalty had declined, because people weren't going to death around in the first place. Because, you know, defense lawyers had become so successful in convincing prosecutors and juries to not sentence them to death at all. And part of how Danalynn Recer did that was by telling these really rich stories about her clients, their lives and their struggles and their traumas, etc. And this was the bigger picture of why the death penalty declined, so she could be the character that people follow to understand those reasons. At the same time, I had a second key character named Elsa Alcala. I should say I thought of Danalynn Recer and Elsa Alcala, as the twin trees through the book from which many other people branched off. And Elsa was a prosecutor under Johnny Holmes in Harris County who sent several men to death row and was part of the culture of prosecutors that really actively sought the death penalty and celebrated it. And then she, through her career, gets appointed by Republican governors up to a series of courts and becomes a judge. And finally, when she reaches the highest criminal court in Texas, she starts to have a turn where she sees all the problems of the death penalty system, and questions what she had done as a young prosecutor and comes to question whether we really need the death penalty and whether it's being handed out in a just way and her intellectual version narrative – I guess you could call it – her story felt to me like it tracked in an interesting way with the larger cultural turn against the death penalty, the ways that different Americans have come to oppose the death penalty are around the question of whether someone innocent can be executed, the question of whether people deserve mercy, the question of whether intellectually disabled and mentally ill people are getting the death penalty. And these were all things that Elsa confronted as a judge and really grappled with. And so I thought her story could take readers through that history.
Josh Hoe
The Grigson story stood out a little bit to me, because I remember in high school, I was asked to help some attorneys with a death penalty case. And at one point, I met with a prosecutor who told me as a high school kid, something that sounded almost exactly like what Mr. Grigson said in the book. You know, he basically said that all people on death row were expert manipulators [and] that I shouldn't believe anything anyone told me, stuff like that. Do you think there's such a thing as a tough on crime or prosecutorial mindset that somehow has infused the entire system? Is there a way  . . .  what is the antidote to Grigson? Are Recer and Alcala the antidote?
Maurice Chammah
The way I thought about it was that you need the Recers to get the Alcalas. So, you know, change happens in a really big messy way. And Grigson? You know, just to lay out quickly what he did. I mean, he was a forensic psychiatrist who was enlisted to testify in Texas death penalty trials. And in Texas, the law said that to be sentenced to death, the jury would have to decide that you're going to be dangerous in the future, that the defendant is so  – I don't know –  psychopathic or dangerous that they're going to kill again, if they're not sentenced to death. And Grigson became the go-to expert for getting into court and convincing the jury that the defendant is a psychopath. And in his early days, he actually interviewed the defendant, and then the defense lawyers managed to stop that by saying this violated their Miranda rights to not incriminate themselves. So he's kicked out of that. And then he starts just testifying – having not met the defendants – speculatively, about them based on what prosecutors tell him. It's almost funny. There was a moment where a case involving Grigson goes up to the Supreme Court and one of the Justices says to the prosecutor, are you all down in Texas just using Grigson in all these cases? Because his name just keeps coming up. And it's a big state, right? And the prosecutor couldn't answer really; there really was an era where Grigson was so dominant, especially in  – I almost marked it off geographically – it was Dallas and some of the smaller towns down along the main highway that connects Dallas to Austin. He was less popular in Houston for various reasons. But his mindset of seeing everyone who commits a crime as reduced to the worst thing they've ever done, and that that worst thing they've ever done being definitive, the definitive thing about their personality. So there's no way they're going to stop killing people, if they don't get the death penalty; that did suffuse our political culture. And, I think Elsa Alcala is an interesting case study because it's not like she grew up as a tough on crime person. It's not like she grew up wanting to be a police officer or prosecutor. It's something she fell into after college as a young, ambitious, very smart person. And so I think because the political culture rewarded a tough on crime view, it meant that if you were young and not really sure how you felt about the world, it was very easy to fall in with that mindset and be swept up in it. I told a story of how Elsa Alcala gets a death sentence for a man and then her boss gives her a commemorative pen that's shaped like a syringe to celebrate her victory in this death penalty case, which in our Maurice Chammah0Maurice ChammahJosh Hoe reading eyes is horrifying, but at the time, was seen as sort of a fun, silly celebration of the death penalty.
Josh Hoe
I was just about to say the word horrifying when you said horrifying.
Maurice Chammah
But I want readers – I did my best, and I don't know that I totally succeeded at this – but I try to do it in interviews, at the very least, to sort of get people to see that it's horrifying to our eyes now. But try to remember what you thought and the 80s and 90s. Crime was high, you were maybe scared. There's a lot of people now who believe in criminal justice reform who were also voting for tough on crime stuff in the 90s. And I want people to think about that a little and reckon with their own culpability in the system. Because you know, Alcala, the boss who gave her that pen was an elected official who campaigned, and who a majority of Houstonians over and over and over again said they wanted to be their top prosecutor. So then Danalynn Recer comes along, and at the time that she starts defending on death row and arguing, basically, that they're not the worst thing they've ever done, and that there's humanity to them, and that they should be spared the death penalty. She and her cohort of lawyers are seen as these fringe horrible outsiders.
I dwelled on this a lot in the book because I found it so fascinating – again for 2021 readers. Now we all celebrate Bryan Stevenson, his book and the movie, Just Mercy. But Bryan Stevenson was also a part of Danalynn Recer's cohort of lawyers in the early 90s, who were working against a political culture that just saw them as – not as bad as maybe death row prisoners they're defending but almost as bad, right. And, these defense lawyers named their little civil rights firms really vague things like the Texas Resource Center, or the Texas Defender Service, or the Gulf Region Advocacy Center. And part of that was because if they said, We are the anti-death penalty defense center, they would get bomb threats, they would get graffitied; there was a real hatred and a real sense that criminals are out to get us and these people want to help the criminals.
But Danalynn Recer believes what she believes, and works very hard up against that cultural moment and slowly chips away at it, and slowly manages to convince jury after jury that her clients don't deserve the death penalty. And I was really fascinated to see the way that her sorts of arguments – she doesn't invent this, she's just very good at presenting it – they slowly trickle into more and more defense lawyers' writings and their appeals and more and more of their presentations in court. And then judges slowly start to get convinced by it. And so where early in Elsa Alcala's career, she sees these people who committed terrible crimes as evil; she even calls one of them evil in a trial. By the end of her career, she is speaking with tremendous sympathy of these men on death row and really understands that they cannot be reduced to the worst thing they've ever done and believes that they should be spared the death penalty. And, it's a slow process. I mean, I saw a Facebook post by Elsa just the other day where she said a few years ago, I made an exception for mass casualty terrorism cases, like the Boston bombing, or Dylann Roof or something. But I don't even make that exception anymore. I'm just against the death penalty. And so you see, there's this sort of moment-by-moment, year-by-year drift away from the death penalty, but it's the Danalynn Recers who were committed to these ideas all along, even when they were unpopular, that convince the more centrist, or mainstream representatives like Elsa Alcala to a new vision. And so I wanted the book to capture that really messy way in which change happens.
Josh Hoe
You mentioned this before a little bit, but another ongoing theme of the book is the largely undiscussed trauma of people who come into contact with or work in the system. Did you find a lot of the people on both sides of these disputes or all sides of these disputes, from correctional officers to prosecutors, had ways of dealing with the trauma of being part of the state machinery of death? Or is it largely untreated? How does it come out? It seemed like there was a lot of pain involved, even if you weren't the family member or the person who was executed.
Maurice Chammah
There's so much pain. Yeah. And early in the book, Elsa Alcala as a young prosecutor, she sentences several men to death, or convinces juries to sentence them to death, I should say. And one of them is a 17-year-old, who committed a really atrocious murder; he killed a young man, and a young woman. And the young woman was the best friend of the young man's twin sister. I said that confusingly. But basically, there's a woman named Allison Vickers in the book, who survives this crime and loses her best friend and her twin brother. And then some number of months after that, she has another brother who takes his own life because of the trauma of these murders. And Elsa, I think, bears some trauma from being so close to that, hearing about it, and getting to know Allison Vickers, they become friends even beyond the trial; years and years later, they're still sending each other letters and talking on the phone. And I think that Elsa fuels the trauma of the system into fighting for what she perceives to be justice, which at the time, and in that place, was getting the death penalty for a 17-year-old, which, again, in 2021, seems problematic. It seems problematic to Elsa Alcala herself now, but at the time it was the politics and was the way that people understood justice. So she I think, fuels her trauma into fighting, and feeling like she can deliver this death penalty as almost a service to the victims who are left behind by this tremendous murder.
The defense lawyers are traumatized by witnessing their clients' executions. I got the sense that there's a little bit of camaraderie between them, but a lot of them burned out, a lot of people . . . sometimes it was actually hard to find some of the defense lawyers I wanted to interview from the early 90s because they're not defense lawyers anymore. You know, their phone numbers aren't on the State Bar website, because they left this traumatizing world of losing their client's execution and became chefs and psychiatrists, and a pastor in one case. So it was a little harder to find some of those people. And then the family members go through their own trauma. And I think what's worth saying about that is that sort of it doesn't play out the same way for any two families. So I interviewed family members of murder victims who were very for the death penalty, and even witnessed an execution and felt like it was healing in certain ways to them. They may have been re-traumatized by years and years of appeals. But once the execution happened, they felt like it was a positive thing. And I wanted to include that in the book because that did happen. And I think had I set out to write an explicitly anti-death penalty polemic, I would have naturally left stories like that out. But I wanted to capture why the death penalty was seen as a good thing and as a service to people who are undergoing trauma. And it did seem to be the case for this one woman. But at the same time, I also met family members of murder victims who were re-traumatized by the execution or who felt in the years after the execution, like it wasn't actually what should have happened, it really wasn't justice, they don't feel well-served by the system. You also have family members of victims who never supported the death penalty and actually felt traumatized by prosecutors and elected officials and journalists, jerking them around by expecting them to conform to certain narratives about pain and retribution and forgiveness that they didn't want to be a part of. And they really felt manipulated and re-traumatized by the system. And then finally, I knew going into the book that I wanted to try to find executioners, corrections officers that actually worked on executions; I had the very obvious hypothesis that they would have some trauma. They do. But as I've said, it's different for each and every one of them and it can change over the years. They found, I think, some healing in telling themselves that they were doing a job that's unpleasant and hard, but that someone has to do, and there is a dignity in being the one who takes it on. But others of them burned out and had panic attacks and really fell apart from the work, so I think what I learned about trauma in working on this book is that the same traumatic events can affect every single person who comes into contact with it very differently.
Josh Hoe
You end the book with the death penalty largely on the decline. But since then the Supreme Court has taken a pretty hard right on the death penalty. And as you know, pretty much everyone knows, before leaving office, the former President went on an execution spree at the federal level where there hadn't been executions for 50 years before that. So where do you really think, in retrospect, after all this, where do you really think we are as a country on this issue now?
Maurice Chammah
When the Trump executions first started up, I thought, Oh, no, it seems like the death penalty is rearing back up again. But then I had to remind myself that it's a massive system with a lot of players. And so the President is one player, the DOJ is a player; the Supreme Court is an important player, but not the only one. And even with the Supreme Court's turn towards ruling against death or prisoners, and even with Trump's executions, the decline is still happening. And it's real; most of the death penalty doesn't happen at the federal level. It happens in the states, and Virginia is on the cusp of abolishing the death penalty; there are bills to abolish it moving through legislatures in Wyoming, a very conservative state, and in Ohio. You're even seeing bills brought by Republican legislators not to abolish it, but to chip away at it, and various ways to limit it in Texas, in Oklahoma, Ohio, North Carolina, Kentucky. So I'm watching it across the country. And there's these legislative bills, and then the number of new death sentences and executions continues to drift down year by year. Any given year might have a slight spike, but it's really still on the decline. I mean, Texas sentenced almost 50 people to death in a single year 20 years ago, and in 2020 Texas sentenced, I want to say, four people to death. So those numbers are really going down and the Coronavirus is  – as in so many areas of our country, just an anomaly year. There were very few death sentences and executions because of the Coronavirus. And that doesn't really tell you anything beyond 2020. But we'll watch it this year. But I get the sense that if anything, Trump's zeal for the death penalty in a certain way paved the way for it. It's the quickening of its demise, because I think that all those executions actually led a lot of people who hadn't thought about the issue in a while, who maybe hadn't thought about it since the 90s, to think about it again and to question whether they were still for it, and much like Elsa Alcala in my book, to realize that the views they held years ago aren't the views they hold today. And they're troubled by Lisa Montgomery, the woman executed under Trump, despite her history of sexual abuse and mental illness; or Brandon Bernard who was executed, despite playing a very minor role in the crime; or Orlando Hall who was executed, having been sentenced by an all-white jury. These stories really circulated much more than they would have Maurice Chammah0 years ago. And I can see how that gave a certain momentum to the efforts to abolish the death penalty in Virginia and now in Congress. So I think we're still gonna see a downswing. But history always proves us wrong over and over again. So I'm not in the business of predictions.
Josh Hoe
Well, I hope your prediction is right.
I'm asking people this season if there are any criminal justice books – I know we're definitely going to talk a little bit more about your book – but if there are any criminal justice related books they might recommend others. Do you have any favorites?
Maurice Chammah
Oh, that's a great question. Are you asking [about] new books or . . . ?
Josh Hoe
Just generally.
Maurice Chammah
The book that I feel like I always tell people about is a book called Among the Lowest of the Dead, which came out in the 90s. And it was about the death penalty in Florida and manages to make this big, complicated death penalty system really come to life through individual growth of people and their emotional struggles and their traumas and the way in which the death penalty can take on a life of its own as a cultural war issue that produces a sort of circus atmosphere. So that is a really good book. I just finished reading Tangled Up in Blue.
Josh Hoe
I'm actually reading that book too.
Maurice Chammah
Oh, great. What do you think so far?
Josh Hoe
So far it's great; it's very well-written.
Maurice Chammah
It's very well-written and I was asked to write a review of that book for the New York Times Book Review, which was a big honor for me, and I devoured the book in a few days. And so Rosa Brooks is of course a Georgetown Law professor who has written many books but took a sabbatical to train to become what's called a Reserve Police Officer, which means a not full-time volunteer police officer in Washington, DC. And she just writes so clearly and thoughtfully about the way police day-to-day are thrust into all of these chaotic situations that are the product of all of these unresolved policy problems in America – poverty, domestic violence, mental illness – and they have to navigate them with minimal – there's training but boy, does she make it seem minimal – and, and it gave me tremendous, it just felt like a very refreshing way of thinking about policing, because so much about policing has become a kind of culture war fight, much as it used to be for the death penalty where it's like, either you back the blue and wave a blue line flag in your yard, or you want to defund and abolish the police. And both of those sides feel like if you're anywhere in between those two poles, that you're a traitor to the movement or something. And Rosa Brooks just sort of dispatches with all that and says, Okay, here's what it's actually like to be a police officer. And that just felt like the necessary thing for moving us forward.
Josh Hoe
So where can people find your book?
Maurice Chammah
My book is for sale everywhere books are sold. Probably the most exciting thing about writing a book that I didn't expect is that people have texted me pictures of it on sale at their local independent bookstores. So if you have an independent bookstore in your city, I would suggest looking there; you can also buy it on bookshop.org, which supports independent bookstores. It's also at all the usual [places] – Amazon, Target, Barnes & Noble, Walmart websites as well. So it's everywhere you can buy a book.
Josh Hoe
I always ask the same last question: what did I mess up? What question should I have asked but did not?
Maurice Chammah
Honestly, I can't think of any. I think you asked them all. I wanted to just say one more thing, which we've been talking about, how one thing that I struggled with in this book was how to make it so that it felt like the death penalty was connected to the rest of the justice system. It can seem like this almost exotic, very rare punishment. But I came to see how the punitiveness of the death penalty kind of made the punitiveness of the rest of the system easier for people to swallow. So, for example, if you have the death penalty, sentencing somebody to 60 years isn't the worst thing. And so it doesn't seem as bad, it seems like the lenient option. But if you don't have the death penalty, and you have life without parole, and that becomes the worst, then the more lenient option is a shorter sentence. And so I've come to see that the death penalty validated the punitiveness of the system. I think that if we get rid of the death penalty tomorrow, there's still a ton of work to be done. And we talked about this earlier with the poetry magazine kerfuffle – that was a weird word to use, I'm sorry – fiasco, coming out of that poetry magazine publishing, somebody who committed a terrible crime. Even if we abolish the death penalty, there's still a lot of cultural work to be done in terms of seeing people with a merciful eye. And so I hope the book contributes to that in a small way. And the Marshall Project certainly aspires to do that, and to increase the amount of mercy in the world. So thank you for having me.
Josh Hoe
Yeah, absolutely. Thanks so much for doing this. I really enjoyed having you on the podcast. I love when people ask me questions, too. So that was good as well.
Maurice Chammah
Oh, great. Well, thank you. I hope you have a great rest of the day.
Josh Hoe
All right, you too. Thanks again.
And now my take.
I wasn't kidding when I was talking to Maurice; I am often exhausted by being asked to be accountable to people that I did not harm. On the other hand, I can never finish being accountable to the people that I did harm. This seems like a good time for me to take a few minutes and to talk about what accountability means to me. I don't wish harm on people who do wrong. I wish healing, honest reflection, accountability and change. I hope people come back better, that they come back with the tools necessary, and committed to not harming other people. I think many times people think of accountability as just a word, or as a stand-in for simply saying, I am responsible, or to say I did wrong and take responsibility for it verbally. But to me it is about a way of living, about working to always help and not hurt people. It's about living the number one request of victims of crime – and that request is that you don't ever harm anyone again. That said, I am sometimes but not always surprised when people fail, even spectacularly; it certainly doesn't make it okay. And it doesn't mean that you turn a blind eye to harm. And I'm always thrilled when people succeed. And so many people do. We have to find the problematic parts of who we have become, and do the hard work to address those problems. We have to live our message as advocates. And we have to make sure our public and private lives are equally admirable. I often think of the philosopher Emmanuel Levinas when I think of accountability, and how I think of what that means, and what accountability means. It means we have a radical responsibility to the other, and radical responsibility to hospitality to the other, to every single person we come into contact with; a promise to do no harm. This radical hospitality and responsibility to the other is part of accountability. It's a duty that never ends, that we have to remain concerned with at all times. It's an active duty and responsibility that we have to live. In other words, accountability is not about a moment in time. It's about a way of relating, an ongoing orientation, an obligation as a human being. Once you accept accountability, you do not stop being accountable, and you're responsible, personally, for failures. I know so many people who I care about who have failed and so many people I know who I care about who have been harmed, and I myself have done harm and been harmed. It can be emotionally and physically terrifying and exhausting, but there is nothing more important than being accountable – in my humble opinion.
As always, you can find the show notes and/or leave us a comment at DecarcerationNation.com.
If you want to support the podcast directly, you can do so at patreon.com/decarcerationnation; all proceeds will go to sponsoring our volunteers and supporting the podcast directly. For those of you who prefer to make a one-time donation, you can now go to our website and make your donation there. Thanks to all of you who have joined us from Patreon or made a donation.
You can also support us in non-monetary ways by leaving a five-star review on iTunes or by liking us on Stitcher or Spotify. Please be sure to add us on Instagram, Facebook, and Twitter and share our posts across your network.
Special thanks to Andrew Stein who does the podcast editing and post-production for me; to Ann Espo, who's helping out with transcript editing and graphics for our website and Twitter; and to Alex Mayo, who helps with our website.
Decarceration Nation is a podcast about radically re-imagining America's criminal justice system. If you enjoy the podcast we hope you will subscribe and leave a rating or review on iTunes. We will try to answer all honest questions or comments that are left on this site. We hope fans will help support Decarceration Nation by supporting us from Patreon.