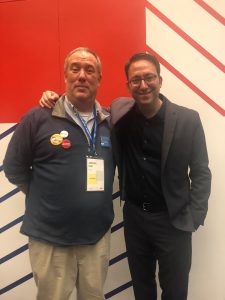 Good news from Trump, a terrible day for Ted Cruz, sad news from Florida (as usual), an interesting take on a pending Supreme Court Case, and GREAT news for the First Step Act.
Add your email on the main page, and never miss a podcast episode OR a #Bars2Ballots daily
Going to try to catalog my quick takes on the day's criminal justice reform news every day (if you want to know more about Bars2Ballots check below).
No Really, Some Good News From President Trump
Today, after heaping deserved praise on Alice Marie Johnson, President Trump promised that he "is 'actively looking' for more inmates to release from prison with his clemency powers, saying "a lot" of people are jailed for years without good reason."
I may not agree with the President often, but I absolutely agree with him here. Also exciting, the article also mentioned both Chris Young (who you may remember Kim Kardashian-West suggesting him to the President for clemency last month) and also Matthew Charles (who I did a podcast episode about with Kevin Ring the Executive Director of Families Against Mandatory Minimums).
By the way, Alice Marie Johnson really is awesome, if you don't know her story, check it out, and you can also follow her on Twitter @AliceMarieFree).
Ted Cruz Had A Terrible Day
When was the last time you saw not ONE but TWO critical articles from GOP sources released DURING a knock-down drag out Senate Campaign – where the leadership is at stake – attacking an incumbent GOP Senator?
Of course the object was Ted Cruz and the subject was his terrible pandering take on Criminal Justice Reform in his race against Beto O'Rourke.
Couldn't possibly happen to a nicer guy…
I lived in Texas for a long time, would certainly be interesting to see a reliably red district flip blue.
Still, do you know how much libertarian's in the GOP have to hate Ted Cruz to pillory him publicly in two articles a month before an election? Unprecedented.
Florida Shame On You!
I wish this was not a thing, but states just keep deciding NOT to move inmates during violent hurricanes. It is absurd, cruel, wrong, brutal, and needs to STOP!
So, of course, Florida refused to move many of its inmates in the path of Hurricane Michael.
When North Carolina decided to move its inmates a month ago, it made me feel better about North Carolina for the first time in years but South Carolina and Florida NEVER EVER get anything about their prisons right.
Shame on them!
Gundy v. United States, A Very Interesting Case Before SCOTUS
I feel like Gundy v. United States is a really interesting challenge to the Adam Walsh Act (Sex Offender Registration and Notification) because it is pointed right at one of the conservative majority's most hated practices…delegation from the legislature to the administrative state.
Many moons ago a friend told me not to be upset about Gorsuch's appointment because he might be helpful in the fight to dismantle registries. I didn't believe him then but in oral argument he came out firing on the side of Gundy:
"Gorsuch reaffirmed his prior position, expressing concern that the broad delegation to the attorney general set this case apart from other cases. He described the attorney general as a "chief prosecutor" with a "conflict of interest" and "a blank check to … determine who he's going to prosecute." The government pushed back, emphasizing that it was Congress that had criminalized the failure to register, whereas the attorney general only made civil regulations for who is obligated to comply."
Not sure this is a good thing for law in general, but between Doe's v. Snyder, Packingham, and now Gundy…Cracks might be starting to widen in the consensus for registries.
Great News For The First Step Act
Everyone knows I am pushing very hard for passage of the First Step Act (Federal Prison Reform Legislation)
There were rumors Senate Majority Leader McConnell had promised a vote for the First Step Act (assuming that a whip count revealed 60 votes or more in support)…but today, the rumors were confirmed by Alexander Bolton at The Hill:
"Senate Majority Leader Mitch McConnell (R-Ky.) says he will move a criminal justice reform compromise after the Nov. 6 election if it has 60 votes."
This is HUGE news because every source I know of has suggested there are already OVER 60 votes in favor of the First Step Act, so assuming no new wildcards are thrown into the mix (knock wood), things are looking very good for a vote right after the mid-terms.
Okay, they won't all be this chock full of information, but today was a pretty crazy criminal justice reform day.
1. #Bars2Ballots is my campaign to unify criminal justice impacted people together in an effort to become a single-issue voting block. In other words, we all agree to vote only for candidates who believe in real criminal justice reform.
2. If you missed the Decarceration Nation podcast this week my guest was Dr. Sheila Vakharia an internationally recognized expert in harm reduction and drug policy.
3. Don't forget, if you are a fan of Orange Is the New Black, I have written recaps of the first 75 episodes of that series from the perspective of a formerly incarcerated person.
Josh is a formerly incarcerated activist and the host of the Decarceration Nation Podcast. He will try to answer all honest questions or comments that are left on this site. Help support Decarceration Nation by supporting us from Patreon.