Joshua B. Hoe interviews ACLU attorney Somil Trivedi about the last Supreme Court term
Full Episode
My Guest: Somil Trivedi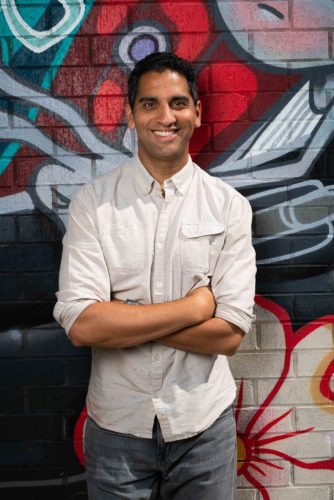 Somil Trivedi is a Senior Staff Attorney in the Criminal Law Reform Project, working closely with the ACLU's Campaign for Smart Justice. He speaks and writes nationwide on criminal law and prosecutorial reform issues and he has been published widely.
Watch the Interview on YouTube
For the first time ever, you can listen to this interview as a traditional podcast and also watch the interview on YouTube.
Notes from Episode 114 Somil Trivedi
The cases we discussed included:
Whole Women's Health v Jackson
The book that Somil recommended is Punishment Without Trial: Why Plea Bargaining is a Bad Deal, by Carissa Byrne Hessick
Full Transcript
Joshua B. Hoe
Hello and welcome to Episode 114 of the DecarcerationNation podcast, a podcast about radically reimagining America's criminal justice system. I'm Josh Hoe, and among other things, I'm formerly incarcerated; a freelance writer; a criminal justice reform advocate; a policy analyst; and the author of the book Writing Your Own Best Story: Addiction and Living Hope.
Today's episode is my annual interview with Somil Trivedi about the recently concluded Supreme Court term, and we will be discussing the decisions of the court on criminal justice. Somil Trivedi is a Senior Staff Attorney with the Criminal Law Project, working closely with the ACLU's Campaign for Smart Justice. He speaks and writes nationwide on criminal law and prosecutorial reform issues, and he's been published widely. In what is thankfully becoming an annual event, he's joining me to help summarize the recent Supreme Court term. Welcome back to the podcast Somil.
Somil Trivedi
Thanks, Josh. Great to be back. I'm sad that this is the second annual pandemic version, but glad that it's our third annual SCOTUS version.
Josh Hoe
That is true. It is our second annual COVID version, unfortunately. I usually start with the origin story question, but since you've been on the podcast twice already, let's start with a different question. Let's talk about President Biden's promises or some of them, and if he's lived up to them. One thing both of us and the ACLU have been involved in is the Keep Them Home campaign. I saw the ACLU commercial on msnbc the other day. Do you want to talk about what this campaign is about and why it has been disappointing, given promises Biden made about federal incarceration rates, commutations, and moving commutations out of the Department of Justice?
Somil Trivedi
So you're right, Josh, that he made all of those promises on the campaign trail, some of them on camera to the ACLU. And so, while Biden has moved expeditiously on things like the stimulus and vaccines, he has so far underperformed on criminal justice, which has angered a lot of us in the activist movement, and the Keep Them Home campaign is sort of a great encapsulation of the problem here. And I know you've done such great work, our friends at FAMM and other organizations have done such great work, bringing attention to the plight of about 4000 people who were released from federal prisons during the pandemic for their own safety, but are now, because of an esoteric Office of Legal Counsel memo, at risk of having to go back, even though obviously, the Delta variant is still raging inside. And even if the Biden administration wants to pledge fealty to this memo, it could just as easily commute everybody's sentence under clemency, which as you pointed out, they promised to start doing more and more. And yet they've hemmed and hawed and tried to find a middle ground here when there's no evidence that any of these 4000 people have done anything to deserve going back in.
Josh Hoe
Yeah, it's really terrible. And, you know, it's sad that they've seemed to continue to triangulate on this issue. Our main topic, as it usually is, are our discussions on the Supreme Court term; we'd be crazy not to talk about last week's decision on the Texas abortion law. What do you make of them waiting until after the law took effect, and of the conservatives, in essence, overruling Chief Justice Roberts? And of course, what it ultimately will mean for Roe?
Somil Trivedi
I see it as nothing but cruelty, right? It reminds me of a Trump-era phrase that folks used to use. The cruelty is the point. If it's so obvious – and it is – that this law is unconstitutional, and it's so obvious that the Supreme Court will get a chance to squarely address Roe in the upcoming Mississippi case next term, why do this? Why shutter a bunch of clinics and harm a bunch of women just over a law that we all think is unconstitutional anyway? And in such an emergency posture …. maybe it's because they just don't like these people and they just don't like these clinics. That's all I can take away from this shadow docket ruling.
Josh Hoe
Emily Bazelon said that this calls back to 1876, deputized citizens suppressing votes that they didn't like, while the courts say that their hands are tied. Deputizing the public to enforce legislation seems like a pretty bad precedent to set. Am I crazy here?
Somil Trivedi
No, this is vigilante justice. America isn't about that. And what's so gross is that you don't think states have tried this before? Like Texas has tried this before. There's a case called Allwright where Texas tried to stop black folks from voting in primaries in the 1940s but they got around the law. By letting the Democratic Party – you know, the Democrats were the racists at the time – by letting the Democratic Party make that rule and not the state, the Supreme Court saw right through that at the time, just like they should have seen right through this, the Texas abortion law here.
Josh Hoe
Also, this seems to prove that even when Roberts sides with the more liberal justices, especially given the most recent addition to the Court, the conservatives can still dominate the Court. What do you think that says for the court moving forward?
Somil Trivedi
Yeah, so a lot was made about the supposed "un-partisaning" of the Supreme Court over the last couple of terms. And yes, there were some examples, like in Bostock, or on the Dreamer case, where there was some hint of bipartisanship or a lack of partisanship on the court. But particularly if you include the shadow docket, which folks like Steve Vladeck and others have pointed out, the court is just as partisan as ever. I'd like to give you an example. So last term, they had two opportunities to deal with the impact of COVID. I mean, they had many opportunities, but two stick out. One was the impact of COVID in prison, which we just finished talking about, where the ACLU and others got preliminary injunctions against local actors – sheriffs – so that we could protect people inside there. SCOTUS used the shadow docket to come out in favor of those local actors, right. But then in the same context, local actors were trying to make voting easier in places like Houston and others, in light of COVID. And the Supreme Court came down against those local actors, right? That tells you nothing more than the Supreme Court is coming down on the side of Republican priorities rather than any consistency.
Josh Hoe
You just mentioned it a second ago, and there's been a lot of talk about the shadow docket recently. For those who might not understand, do you want to explain what that is and what's been going on?
Somil Trivedi
Sure; the shadow docket is supposed to be a place where the Supreme Court can make emergency decisions, to put a stay, to put a hold, on lower court decisions on an emergency basis where they are sort of fast-moving facts. And they do this without oral argument. And without the majority opinion, they just sort of make the decision, because allegedly they have to. Lately, particularly under the Roberts Court, the Supreme Court has been using the shadow docket to simply make decisions  – that they know people won't like or will be controversial – in the dead of night, and, you know, commentators luckily are picking up on this, and Congress is holding hearings on it. But in the meantime, the Supreme Court is getting undue credit for being nonpartisan in its public docket, and then being just as partisan as ever in its shadow docket.
Josh Hoe
So let's get to some of the decisions that did happen this year in the criminal justice realm. And we're starting with Edwards v. Vannoy. This one's on retroactivity and non-unanimous verdicts, right? Would you like to summarize the case for us?
Somil Trivedi
Sure. And this is one in a series of cases about retroactivity and what we can do about folks trapped in jails and prisons, but who got there through unconstitutional means. Edwards v. Vannoy, you're right, is about non-unanimous juries. So for a long time, numerous states allowed folks to be convicted with non-unanimous juries, aka some people could have voted for acquittal and the person could still be convicted. There is a long and sordid racist history about why that is, namely, once America started allowing black people on juries, white legislators decided okay, fine, you can be on there but we're going to discount your votes by allowing non-unanimous juries. So last term in a case called Ramos, the Supreme Court, to its credit, found non-unanimous juries unconstitutional. But the question this term in Edwards was, Does someone convicted by a non-unanimous jury who is challenging it on federal habeas corpus – so after their state appeals have exhausted – can those people get the advantage of the Ramos decision? And bafflingly, Kavanaugh says no.
Josh Hoe
And how many states – just a few states – allow non-unanimous juries, Justice Kavanaugh wrote the decision, one of the major parts of the decision is the difference between collateral and judicial review. Do you want to talk about that a little bit?
Somil Trivedi
Right. So it'll come off as somewhat esoteric to the non-lawyers in your audience, which it should, but collateral review is typically something that happens after someone has exhausted all of their state-level appeals. Those state-level appeals being sort of judicial review, as you said. So what this ruling boils down to is, depending on when in the process you raise this objection, aka how old your conviction is, that determines whether you get relief under a regime that everybody agrees is constitutional. And this sort of raises the sickening fetish that America and the Supreme Court have with finality, right? We just decide that after a while, it's more important that we have final decisions than constitutional ones.
Josh Hoe
It's kind of weird because when we were working on the First Step Act several years ago, a lot of the reason – and we'll talk about crack versus cocaine a little bit later – but one of the reasons we were fighting so hard for that is because it made the 2010 law retroactive, and started to give relief to the people who most needed relief, the people who've been in prison the longest, under an unjust law. So it's always strange to me when we have these retroactivity kinds of decisions, because the people who are most impacted and probably need the relief the most, the ones who've been in prison the longest, the ones who've had their liberty interest denied for the longest period of time, for some reason, the court seems to think it's okay to say those people shouldn't get relief because of finality. You know, if someone's innocent, why should their liberty, potentially innocent, why should their liberty interest continue to be . . . What is the feeling on the Court for why we're valuing, for instance, the feelings of victims and prosecutors over the actual liberty interests of people who've been in prison, oftentimes for decades?
Somil Trivedi
You couldn't be more right. Finality cuts both ways, which is what you're saying. Finality could be, Hey, guys, we're not going to allow unconstitutional conduct to stand, no matter what. And that's the end of the matter, right? So when people say finality, what they really mean is the finality of convictions. And that is a phenomenon that is deeply American and deeply troubling.
Josh Hoe
I don't want to spend all our time on this case. But the other major part of this case was consideration of what constitutes a watershed rule. Do you want to explain what a watershed rule is? Or what in this instance, I think it's one of the only instances, a watershed rule is?
Somil Trivedi
That's right. So again, getting deep into the esoteric weeds of being a lawyer, there are three categories of criminal procedural rules that the Supreme Court has created: substantive rules, which are sort of automatically retroactive; procedural rules, which are presumptively not retroactive, and this middle ground of watershed procedural rules, which might be retroactive. And so what Kavanaugh does here is that he acknowledges that Ramos found this to be a potential watershed procedural rule, but Kavanagh finds it not to be and further extinguishes the watershed procedural category altogether. And what the dissent points out is that this is sort of fully circular. And this is a typically amazing Kagan opinion, that on the one hand, we can find a rule extremely important and have constitutional stature. Like you can't convict people on non-unanimous juries. But then we can say, hey, it's not that important that we actually have to give it to people, as you say, who have been languishing in prison for decades. This makes no sense to the lay listener, and it shouldn't.
Josh Hoe
And there's something about AEDPA in the concurrence?
Somil Trivedi
Yeah, Thomas has a concurrence, where he says we could have decided this entire case under AEDPA, which is a 1990s law that says federal courts hearing appeals on habeas ought to give extreme deference to state courts, and therefore, if the state found this guy guilty, then the federal court should simply have deferred. AEDPA is a major major barrier to relief for unconstitutional convictions, and is also based on this flawed finality concept, and should also be gotten rid of immediately.
Josh Hoe
Obviously, there are not many states that still have retroactive I mean, have these non-unanimous juries? I don't think there's any actually, because of that last decision, but there were two. And is there anything else going forward? Does this case have larger implications than just this limited set of people?
Somil Trivedi
I think so. On the one hand, it is of course limited, especially when you remember that 95% of cases in America end with plea bargaining and so jury decisions are becoming less and less important. But I think it's important because it's instructive about how people use power in the criminal justice system. I'll say quickly, Louisiana was one of those states that use non-unanimous juries. After Ramos, it decided on its own, criminal justice actors in Louisiana, like the DEA in New Orleans, decided on their own to give people new trials who are unconstitutionally convicted. That's leadership in the criminal justice system. On the other hand, the Attorney General of Oregon weighed in favor of a non-unanimous jury. So she was on the wrong side of history on both cases, and is now claiming her hands are tied to help a lot of the folks who are impacted by this; that tells you how much power individual, often elected, criminal justice actors have, and therefore tells you why we the people need to get involved in those elections.
Josh Hoe
Our next case is Terry versus the United States. This is about the difference between sentencing schemes in terms of eligibility for relief, under the – we talked about it a little bit before –  the First Step Act. Justice Thomas wrote the decision and everyone joined except for Justice Sotomayor; would you like to summarize the case?
Somil Trivedi
Yeah, so as you mentioned, this is about the First Step Act, and the facts are pretty harrowing. So a man named Tarahrick Terry was caught with 3.9 grams of crack, not very much at all, way back when he also had two enhancements for sort of petty drug crimes when he was a teenager. So all of that meant he ended up with 15 years, 15 years for basically 3.9 grams of crack. That was under the old sentencing regime where crack, as many of you know, was punished 100 times harsher than powder cocaine, entirely because black folks use crack and  white people use powder cocaine; there's no getting around that. So in 2010, Congress passed the Fair Sentencing Act which reduced the disparity to 18 to one, still not good, but better. And then, as you mentioned in 2018, you and others helped pass the First Step Act, which made the Fair Sentencing Act retroactive. However, based on its text alone, it only made retroactive sentences that were mandatory minimums. And unfortunately, Tarahrick Terry's sentence was not under a mandatory minimum provision, and therefore the First Step Act, by its text, didn't apply. All of the Justices agreed, as a matter of text, that it didn't apply. But Sotomayor makes very, very clear that this is form over function, that members of Congress, bipartisan members of Congress put in amicus briefs saying, what we meant was for all of this to be retroactive, the United States government actually didn't defend the conviction. So the Supreme Court had to bring in an amicus to do it. All of this is again, form over function, finality over justice.
Josh Hoe
It's also even a thinner read than you just suggested, I think because the defendant in question was sentenced for a mandatory minimum of a different kind. It just wasn't a mandatory minimum for drugs, right? It's that he was under the mandatory minimum of the . . . . statute, right?
Somil Trivedi
That's exactly right. So it didn't amount to a hill of beans for him, he's still going to be in prison. And for that exact amount of time.
Josh Hoe
The most quoted part of the case was Justice Thomas talking about how the government petitioners were misusing language to get the result they wanted. What's going on here?
Somil Trivedi
Justice Thomas is disingenuous on questions like this. And he essentially says that, if you read the text as he does, that ends the question, but that's not how we typically address these cases. That's how he wants us to address these cases. But it's not as though he is espousing some rule of the Supreme Court that people are flouting. This was an honest discussion about what the statute meant. He makes it sound like it was disingenuous, it wasn't.
Josh Hoe
Is there anything else from the Sotomayor opinion that we should be talking about?
Somil Trivedi
Well, I think at the end, she very openly begs Congress to fix this problem and make all of the Fair Sentencing Act retroactive. I agree. What we all know, in reality, is that it is very, very, very hard to get Congress to do that. And in the meantime, people will suffer.
Josh Hoe
And it's unfortunate because Congress actually said that is what we intended. Are there larger implications to this case? How should we be thinking about it moving forward?
Somil Trivedi
Well, absolutely. I think there are many, many people in on this sort of non-mandatory version of the First Step Act, and we have armies of lawyers, as you know, making these petitions and getting folks out, and we could have even more if Congress will step up.
Josh Hoe
Alright, so next we move to Jones versus Mississippi. Kavanaugh wrote the majority decision. This one's about juvenile life without parole. But before we get to this decision, could you first summarize the previous Miller and Montgomery cases so that everyone has all the background they need, for when we start talking about Jones.
Somil Trivedi
So despite this history in the Supreme Court in this trajectory towards more rights for children in the criminal context, Kavanaugh says that as long as a sentencing scheme for children isn't mandatory, I'm not going to ask whether the state court ever actually found that the kid was not capable of rehabilitation – or in the Supreme Court's terms – permanently incorrigible, even though that's precisely what Montgomery and Miller required.
Josh Hoe
Yeah. Kavanaugh's decision also seems to be dominated by one single claim that the Miller and Montgomery decisions explicitly said that courts do not have to reach a separate factual finding that the juvenile was permanently incorrigible. But Sotomayor wasn't really impressed with that argument in her dissent; were you?
Somil Trivedi
No, not at all. And it's because Kavanaugh cherry picks language in a way that would get you failed as any law student. So he picks up on language that says no fact-finding is required. However, he leaves out a whole chunk of Montgomery right after that, that says, just because a particular form of fact-finding isn't required, doesn't mean that the state court doesn't have to find that the child is permanently incorrigible. In other words, just because we don't mandate the process by which you find that a child isn't permanently incorrigible, doesn't mean you don't have to. Kavanaugh leaves that entire part to a footnote, he buries it and then bases the entire opinion on the first part of that language. It's supremely disingenuous.
Josh Hoe
There's kind of a small amount of hope, though, kind of in the same way we talked about in the last case, one way of reading the Jones decision was that it left it open for states to go farther, is that correct?
Somil Trivedi
That's right. So as in all contexts in the criminal justice context, I suppose, states can go farther than the constitutional rule. And many states have required very significant fact findings. And the dissent points out that states have done this, to make sure that we're not keeping kids in prison for the rest of their lives, without a significant fact-based finding that they'll never get better. You know, folks like you and I probably agree that kids can always get better, humans can always get better, that's the human condition, is getting better. So I think JLWOP [juvenile life without parole], for everything, should be gone. But at the very least, definitely, we can lobby our state legislators to put more strictures around this process. And we can lobby folks like governors or the Biden administration to take clemency more seriously to get kids out immediately, without requiring these procedures. So yes, there's hope, if we get engaged.
Josh Hoe
Our next case is Caniglia versus Strom. I suspect libertarians and Second and Fourth Amendment aficionados will like this case; it kind of covers warrantless searches. Surprisingly, Justice Thomas wrote the decision. Would you like to summarize the case for us?
Somil Trivedi
Sure. And thankfully, we're moving from these very sad back-end  finality cases to some slightly more hopeful front-end cases. And also, this one's a little darkly funny. So in Coniglia v. Strom, an elderly couple is having a fight in their house and the husband says – maybe expressing a sentiment that others in the audience have felt but maybe not said out loud – he says, shoot me now and get it over with. That's the funny enough part. Then, unfortunately, he pulls out a handgun and puts it on the table. That's less funny. So the wife spends the night at a hotel and lets him calm down. The next day the police come over to see if he needs a psychiatric check, given what he said. He says no, but eventually, he relents and says, Okay, fine. I'll go to the hospital for a psychiatric check. But you can't take my gun. Cops being cops, they take his gun. He sues under the Fourth Amendment for a warrantless search. The lower courts actually uphold it, but the Supreme Court, 9-0, with the Thomas majority, again to the delight of libertarians and Second Amendment aficionados everywhere, says no, it was an illegal seizure.
Josh Hoe
So does this case suggest that there's at least one area of law, Fourth Amendment rights of citizens in their own homes, that might become a place we could count on for this court? You know, we've said before that this is a relatively reliable First Amendment court. Is this one area that might be added to that where we can count on this court to make consistent decisions given that ruling was 9-0, Thomas, you know . . .
Somil Trivedi
I think that's a fair reading. I, you know, I'm not one of those that thinks that this Supreme Court is somehow post-partisan on everything. But yes, in this narrow context, this case and another case we're going to talk about in a second, Lange, reinforces the notion that look, the Supreme Court says very clearly, people have a right to be free of unreasonable searches and seizures in their home. And this was a case like that.
Josh Hoe
It's also, I think, important that it's one of the few times where they rule against the police on something. So that's good, too. Is there anything else going forward that you think is important to talk about in this case?
Somil Trivedi
Yes. So what the state invoked, in this case, was something called the community caretaking exception where they say, well, since police weren't there conducting a criminal investigation, they were just conducting a wellness check, they shouldn't need an exception to the Fourth Amendment, that should be their free-standing exception. And Roberts and Alito, buy this hook, line, and sinker, I mean, they concur in the judgment, but they buy this notion of, you know, Pleasantville-style cops walking in the streets of your neighborhood, just checking on Grandma, and that that informs their legal reasoning. This is a problem in American law and American policing because that's not how cops operate in other neighborhoods. And this speaks to the national discussion we're having about the role of police. To me, we don't need police to be community caretakers. We already have those people, though, called social workers and family and doctors and schools and nurses. And those people don't have guns, they actually take care of the community. And so when we talk about this opinion, I think it speaks to what should be the shrinking role of police in non-police matters and the expanding role of police in public health and other social matters. And that's the debate we ought to be having in the wake of this.
Josh Hoe
And we also have programs like Cahoots, which train people to do interventions in situations like this without guns. And you said a second ago, we were talking about Lange, so let's go ahead and move to that, there's another interesting case, kind of along similar lines. This seems to question police powers in certain circumstances. Kagan wrote the decision. Would you like to summarize?
Somil Trivedi
Sure, this one is another one that's 9-0, another one that's a little bit funny, because here you have Arthur Lange driving around in Sonoma County, maybe after a bottle of wine, playing his music loud and honking his horns, and the California Highway Patrol – CHiPS for those of you who are old enough to recognize the reference – turns on their lights in reaction to this sort of, you know, noise violation, and follows Mr. Lange into his driveway. What happens next is that the highway patrol officer puts his foot under the garage door as it's closing, and then conducts a field sobriety test inside the garage and then ends up charging Mr. Lange with DUI and violating the noise complaint, both of which – this is key – are misdemeanors. The state says, Well, I had every right to chase him into his garage because there was probable cause that he was committing a misdemeanor. The Supreme Court 9-0 says no, the mere fact that someone is committing a misdemeanor does not allow you to, as you mentioned, enter their home without a warrant.
Josh Hoe
You know, I am old enough to remember CHiPS. And I'm not sure that – this is definitely the first time we've had a Ponch and Jon reference on the podcast – so you were just talking about the difference between misdemeanors and felony encounters with police. For people who may not know, the difference is generally that it's one year, right. It's a one-year sentence, but what else can you say about this distinction that might give people some more understanding of the difference?
Somil Trivedi
It's a good question. And it's actually sort of central to the case. American criminal law has made this somewhat arbitrary distinction between misdemeanors – that are typically only eligible for less than a year in prison – and felonies, that are eligible for more than a year in prison. But states are free to define what conduct qualifies as a felony and a misdemeanor. In states like Arizona, you can get a felony for possession of drugs where most other states have decided that's obviously a misdemeanor. Then again, there are some places where some arguably serious conduct is just a misdemeanor. The Kagan points this out in the opinion, that given that we have such a wide variety of conduct that can qualify as a misdemeanor, simply invoking the word misdemeanor to chase folks into their home and conduct unwarranted searches doesn't make sense. Now, if there's another reason to go get them like they're destroying evidence or something like that, that qualifies as an exigent circumstance, that's an exception to the Fourth Amendment. But misdemeanors are typically low-level stuff. And we do not want cops out there chasing people down over misdemeanors. And I think this is an important ruling, even though quite narrow because anything that will keep cops from chasing people over stupid stuff is helpful.
Josh Hoe
And, you know, I think this is also a good educational moment; the court also said that they did this to resolve circuit conflicts. Do you want to just explain why that happens, or how that happens; it gives us an opportunity to talk about this area.
Somil Trivedi
Yeah, it's a great point. You know, I just finished saying that state law varies a lot on things like misdemeanors and felonies. It also varies a lot on criminal protections for people. And so often, the circuit courts, which are the intermediate federal courts, right before the Supreme Court, interpret the constitution and certain protections and certain underlying state laws differently, such that they can create a so-called split, right? And one of the jobs of the Supreme Court, maybe one of the main jobs, is to resolve those splits by creating rules that are applicable to everybody. This is one of those situations where the Ninth Circuit, where Sonoma County, California is, had a different rule than other circuits. The Supreme Court says now, very clearly, 9-0, you can't chase people just because they're suspected of having committed a misdemeanor.
Josh Hoe
Our next case is – and these are all kind of similar – there are a lot of similarities. This next one is Taurus versus Madrid. This one suggests that the application of physical force to the body of a person with the intent to restrain is a seizure, even if the person does not submit and is not subdued. Chief Justice Roberts wrote the decision. Gorsuch dissented, joined by Alito and Thomas; would you like to summarize?
Somil Trivedi
Sure, so this is where the sort of sitcom portion of the podcast ends because this is a sad, sad case. A woman named Roxanne Torres is standing outside her car in Albuquerque coming down from a high. The police approached her, they're supposed to be executing an arrest warrant for somebody else entirely, but they see Roxanne Torres. They think she's suspicious, they start questioning her. She gets in her car and drives away, fearing that these plainclothes officers – by the way, wearing like black tactical gear – are actually there to harm her. She starts driving away. They decide to shoot her; they shoot at her 13 times, hitting her twice. Luckily, she drives away and gets away. Unfortunately, when she goes to the hospital miles away, they airlift her back to Albuquerque, where these police, who shot her without cause, arrest her for fleeing the scene? The question in the case is, does the unsuccessful killing of Roxanne Torres constitute a seizure under the Fourth Amendment? The cops here say no because she got away. The majority, Roberts, and the majority says no. Obviously, when you put a bullet in somebody you have seized them, even if they're lucky enough to get away.
Josh Hoe
Yeah, it sounds very esoteric, but this seems like pretty important stuff. What is the larger context in terms of this notion of search? And of being apprehended? I think that sounds like –  for many people that might be a little bit confusing.
Somil Trivedi
Sure. So Gorsuch makes the argument in the dissent that this isn't a seizure, it's an attempted seizure; fine, except he's wrong on the law. There's a controlling case, Hodari D. And in any case, we want the law to reflect that when police put their hands on you or put a bullet in you, that's where the seizure happens, regardless of what happens after that. And of course, this happens all the time. And we obviously want the Fourth Amendment to apply the second an agent of the state tries to apprehend you in any way. The problem here is that this is a very limited holding. All it means is that the Fourth Amendment applies, it doesn't mean that the apprehension wasn't unreasonable, and worse, it doesn't mean that qualified immunity won't still apply. And that question is still open in the district court right now, in Roxanne Torres' case.
Josh Hoe
And this is one of those kinds of decisions we talked about a little bit before, where Roberts sided with the more liberal justices; the split happened. The reason why it mattered in this is because Barrett wasn't part of the decision. Is that right? If she had been, this might have gone a different way?
Somil Trivedi
Yeah, it was 5-3, Barrett could have made it closer and in another set of circumstances, Roberts could have gone the other way as well. But this one, in which they shot at her 13 times, hitting her twice, at least came out on the right side.
Josh Hoe
And what about the Gorsuch dissent? Usually, he's traditionally been pretty good on the Fourth Amendment; you have a couple of examples that we've gone through where he's been a little bit more reluctant. What's going on here with him? Or do we know?
Somil Trivedi
I don't know. Honestly, it's a typically sort of smug and history-laden diatribe in his dissent about the difference between an attempt and a seizure. But he of all people should know the history behind the Fourth Amendment. He of all people is typically more skeptical of state power, as you said; we've talked about this in past cases in the last couple terms. This is a total aberration. I don't get it.
Josh Hoe
Yeah, one thing we hoped we could count on is that this was one of the Justices appointed by Trump, that actually on certain issues could be a little bit reliably suspicious of government power. But he seems to be a little bit schizophrenic. The next case is Taylor versus Riojas. This one is not a decision decision, right? Do you want to explain both how this happened, and what the decision is?
Somil Trivedi
Sure. So I mentioned qualified immunity a minute ago, which for your listeners is this awful doctrine that the Supreme Court created that says even if police or other government actors violate the constitution, unless there was a case, exactly on all fours on the facts in that same circuit, police can't be held liable for that constitutional violation. It's  like a super extra layer of protection for police that they never asked for, and that is not in the text of any of our civil rights statutes. The Supreme Court just invented it to protect cops and other government actors. So we at the ACLU, and others, like at the Cato Institute, and across the partisan and ideological spectrum have been trying to get rid of qualified immunity for years. Taylor v. Riojas is a case that gives us a little bit of hope. So Taylor, in Taylor, a man in a Texas prison was placed in a cell for six days, covered in feces, on the floor, coming out of the faucets, everywhere. He sues for an Eighth Amendment violation saying that's cruel and unusual punishment. I think we would agree with that.
Josh Hoe
To be in the cell for six days, with the whole-cell covered in feces sounds cruel and unusual to me, yes.
Somil Trivedi
That's right. And it's so cruel and unusual that we wouldn't expect there to be a case right on point because nobody is disgusting enough to do that to a human being. So there was actually some question about whether he would get relief, or whether the Supreme Court would say, well, no prior case on point, qualified immunity, but the Supreme Court does the right thing, in a procedural manner, it's not a full opinion, but they say no, there are some cases that are so obvious that you can invoke an exception under a case called Hope v. Pelzer that says, any reasonable officer would have known this, you don't need a prior case on point. There's another case this term called McCoy v. Alamu, that is very similar, also a prison case, about macing. And so between these two cases, we see a glimmer of hope from the Supreme Court, that maybe they're willing to invoke this exception to not let qualified immunity swallow civil rights law.
Josh Hoe
And they kind of decide that you know, no reasonable officer could be that deliberately indifferent. In other words, they couldn't be that much of a jerk. Unfortunately, they probably haven't met many correctional officers.
Somil Trivedi
I mean, if we want this exception to mean anything, we're gonna have to apply it to a lot of people and a lot of circumstances, like you said, but at least they did it in these two cases.
Josh Hoe
Is there anything worth mentioning that you haven't already mentioned from the Thomas dissent?
Somil Trivedi
Well, I think a surprising revelation in criminal procedural jurisprudence has been Thomas's outright disdain for qualified immunity, mostly from a textualist originalist standpoint, like we said; it's not in Section 1983, or other civil rights law. And so, you know, he has said consistently, we need to revisit and get rid of this. Unfortunately, we took a case to the Supreme Court, Baxter, last term, that squarely put the question in front of the court, and they didn't take it up. Hopefully, it's just a matter of time, but we don't know. And in the meantime, we are working with legislators at the state and federal level to get rid of it and not rely on the Supreme Court at all.
Josh Hoe
You just briefly mentioned McCoy versus Alamu; another one without a decision but it was based on Riojas; can you explain a little bit more or if there's anything else we need to talk about here?
Somil Trivedi
I think it's the same idea there. There was a totally unwarranted spraying of mace in a prisoner's face. Again, something where there wasn't a case previously on point because Who's that big of a jerk? But again, the Supreme Court, now able to rely on Riojas because McCoy came afterwards, said guys, that's obvious, take it back to the state court and figure it out.
Josh Hoe
I know we both talked about – I'm actually wearing my Mavericks jersey right now – I should probably be wearing my Michigan jersey since we're gonna be talking about college sports. But since we're both sports fans, you had suggested that we might talk about the NCAA cases, NCAA versus Alston was one of them. And this was a bit like reading a math textbook. Could you demystify it a little bit for everybody? 2
Somil Trivedi
I'll try. Although this is going to prove that I'm not a real lawyer, I just play one on your podcast, because I don't know a whole lot about antitrust law. But I'll give it a shot. I think that we all know, whether you're a lawyer or not, that the NCAA does not pay its players, right. Or if from the NCAA standpoint, they pay them by giving them college scholarships, right? Even though NCAA sports, particularly Division One men's football and Division One basketball bring in boatloads of money to the university and the community. The question, in this case, was, can the NCAA limit compensation to student-athletes without violating antitrust law? So it's a major case. I will say, the actual specifics of the case were limited to other educational benefits beyond undergrad tuition, so graduate school tuition, and things like that. It didn't actually cover the bigger issues, like name image and likeness royalties or straight-up paying athletes, but the dam is now broken.
Josh Hoe
And what about name image and license? I mean, obviously, there were some implications, and people are starting to cash in on those. So tell us more.
Somil Trivedi
Yeah, that's right. So while that wasn't at issue in Alston, a couple of days after the case, a district court actually denied the NCAA's attempt to block a case about name image and likeness going forward. And then days later, the NCAA just allowed it. So those floodgates are open, right now, there are big-time college athletes with, you know, six-figure endorsement deals just as if they're pros. I think it's incredible. I think that these kids should be able to benefit from their labor in the same way that everybody else in every other market does. Actually, Kavanaugh writes a really great concurrence, where he says – I'll quote real quickly – "The NCAA business model would be flatly illegal in almost any other industry in America". Hospitals can't agree to cap nurses' income in order to create a pure or more amateur form of helping the sick, right, movie studios can't collude to slash the benefits of camera crews to kindle a spirit of amateurism in Hollywood, right? This is what the NCAA has been peddling to us for years – that people watch our sport because they're amateurs, and therefore, we should be allowed to not pay them – like amateurs. And the Supreme Court isn't buying it, just like America hasn't been buying it for a long time.
Josh Hoe
I like to try to talk about some Supreme Court basics. And so this was a unanimous decision; could you talk a little bit about the difference between when you have a unanimous verdict, and when you have a 5-4 or something like that?
Somil Trivedi
I mean, that means that the court all agreed, despite their ideological differences, and I think that is important. We've been having a national conversation about whether the Supreme Court is politicized or not. I'm firmly in the camp that it is, especially when you include the shadow docket, like we talked earlier, and the fact that they always seem to break on partisan lines on some of the most important questions. But this case does show that on certain questions, maybe outside the civil rights context – although there are civil rights implications here too – outside the traditional civil rights context, they can find unanimity and they did here.
Josh Hoe
What do these cases actually mean for college athletes? We talked about it a little bit, but what do you think it actually functionally means for them and for the NCAA going forward?
Somil Trivedi
Yeah, it may not mean a lot for lower-level college athletes who may not be able to take advantage of the fact that they can now make money, but at least a subset of popular or really good college athletes can finally get paid while they are practicing nine hours a day then expected to go to school harboring all this pressure, right? For so long. America has put so much pressure on the backs of young, mostly black men and women, mostly coming out of rural impoverished situations to try to make it through college sports, right. And America feeds off it. We have immense college sports culture in America, right? We eat it up. And yet, we don't want to pay these folks for giving us this entertainment, and I think that's been wrong for a long time. Not to say that college sports necessarily are all wrong. You and I are big fans, I'll catch an LSU football game any chance I can get. But I want it to be fair, and I want to feel good about it. And part of that is paying these kids.
Josh Hoe
I'm sorry, that must have been a little bit depressing last week, right? At least you got the national championship a few years ago.
Somil Trivedi
That's right, we'll take it. I'll take Joe Burrow back anytime if he wants to come make money in college now that he can.
Josh Hoe
So we're pretty close to the start of a new term. We just heard about one death penalty case that will be on the docket. What else do we think we can expect over this next session as we're getting closer?
Somil Trivedi
Yeah, so it's a pretty big session. Of course, as we mentioned earlier, the Mississippi abortion case that will put Roe squarely at issue is up. Everybody should be mad as hell about that case. In the criminal justice context, I actually think it's interesting. There are three or four cases that actually implicate the war on terror, which I think is really interesting because we're taping this podcast on the day before the 20th anniversary of 9/11. So the Boston Bombers death penalty case is going to be up. There's a question of whether Bivens, which is the federal analog to Section 1983, should still be good law, which to me is bonkers. And there are two cases about whether the United States can invoke the state secrets privilege to block evidence about torture in the national security context. All of these have both criminal justice and national security elements to them. And I think they're going to be really major tests and whether we've moved on from 9/11 or not. Finally, I'll just say that we're all living in COVID still, and sure as the sky is blue, I expect vaccine mandate cases to get up to the Supreme Court, maybe on the shadow docket. So we'll see.
Josh Hoe
Which is interesting, because I always find it odd that they're called vaccine mandates. In a sense, they're not really mandates at all, because, at least to this point, they're just employer requirements, which means you could still choose not to get a vaccine, anytime you wanted to, you just wouldn't be able to go to work, right?
Somil Trivedi
That's right. And in another way mandates are just rules. We've been living under vaccine rules for as long as America has existed; we just decided to make this a debate where there never was one.
Josh Hoe
This year, I've been asking people if there are any criminal justice books that they've read or that they might recommend to others. Did you have any particular favorites this year?
Somil Trivedi
Absolutely. So this isn't one that's out yet. But it's coming out and I can't wait for it. It's called Punishment without Trial from Professor Carissa Byrne Hessick at UNC. You and I have touched on this a couple of times, the pernicious nature of plea bargaining in America where essentially, prosecutors pressure defendants to give up their rights and plead guilty, regardless of whether they're innocent, regardless of whether they deserve the kind of punishment they did. And this book highlights that problem. And so I can't wait. And I think everyone should run out and get it.
Josh Hoe
Well, I always ask the same last question. What did I mess up? What question do you wish I'd asked, but did not?
Somil Trivedi
You didn't mess up anything. I wish you had asked about whether you and I might be able to go play college ball, now that they're paying. You used to be a baller. So what do you think?
Josh Hoe
I think that the worst thing that could possibly happen would be for me to go back. It would be bad for any team that I became a part of. I'm very slow these days. But I'd still love to have the opportunity. What about you? What would you do?
Somil Trivedi
I would probably go back and be their lawyer. But if they let me on the court every once in a while I'd give it a shot.
Josh Hoe
Were you basketball also, or were you . . . ?
Somil Trivedi
I mean, I was basketball like in the loosest of terms, but I still like to get out and play.
Josh Hoe
One of the people that I knew who actually played in college Division One was kind enough to say that I could have been a Division Three player. I thought it was the greatest compliment of my life really because I don't know – you know, one of the things I always tell people is, you know, I've actually played against a couple NBA players and I've played against NFL players. And one thing you learn very quickly when you're with that level of athlete is that no matter how good you think you are, you're just not; it's a whole different world. I tell this story a lot. I'm digressing a little bit, but when I was in college, I was in a jogging class and one of the guys in my jogging class ended up being an alternate to the Olympic team for distance running. He was an alternate, he didn't even make the team. And we were all in great shape then, and we would do 3-mile runs every morning. And we started the run, and all of us are starting, all of us had played sports, all of us were, you know, and within like, three minutes, he was a mile ahead of us, we couldn't even see him anymore. And it's just, you know, there are certain people, it's like, I could practice my whole life, do everything perfectly, and I would never be in the league of that person. And I've had people I've played basketball against like that, too. And it's not that I'm a bad ballplayer, it's just, you know, I mean, there's just, it's a whole different level when you get to that stage.
Somil Trivedi
I feel like that when I come on your podcast, you're just so light years ahead of me that I'm just struggling to catch up.
Josh Hoe
Now you're just being too nice, kind of lying. But I do appreciate it. And you know, I really appreciate you coming back and doing this for the third year. And now people will actually get to see it. This is the first time we're doing both audio and video. So if people have YouTube, you'll be able to find it there. Thanks so much for doing this.
It's always great to get to talk to you.
Somil Trivedi
Thanks, Josh. I'm looking forward to next year.
Josh Hoe
And now my take.
This is usually where I do a rant, but I just wanted to take a second to reflect. We've already done 24 episodes this year, and there are at least three more still to come before we wrap the season up and take a few months off before Season Five starts at the end of January. Overall, we've produced 114 episodes of the podcast in four years and covered hundreds of topics. I'm proud of the work we've done. And I want to take a second to thank all of the volunteers and people who have helped over the years. Andy, Robert, Kate, Alex, and Ann, and of course my original co-host Joel. They have all been incredibly kind and supportive over the years and I could not have done this without them. This has always been a passion project. We've never had a network supporting us or any money behind us. And yet we've been able to get Pulitzer Prize winner state senators, gubernatorial candidates, New York Times bestselling authors, Chief Justices, and so many more great guests, and I'm just so thankful to everyone for being part of the podcast.
Today's episode is the first episode we've ever done that will simultaneously be available to listen to both in the traditional podcast format, but also in the video format on YouTube. Just search the DecarcerationNation podcast or find my YouTube channel by searching Josh H or decarceration nation and my channel should come up.
As always, you can find the show notes and/or leave us a comment at DecarcerationNation.com.
If you want to support the podcast directly, you can do so at patreon.com/decarcerationnation; all proceeds will go to sponsoring our volunteers and supporting the podcast directly. For those of you who prefer to make a one-time donation, you can now go to our website and make your donation there. Thanks to all of you who have joined us from Patreon or made a donation.
You can also support us in non-monetary ways by leaving a five-star review on iTunes or by liking us on Stitcher or Spotify. Please be sure to add us on Instagram, Facebook, and Twitter and share our posts across your network.
Special thanks to Andrew Stein who does the podcast editing and post-production for me; to Ann Espo, who's helping out with transcript editing and graphics for our website and Twitter; and to Alex Mayer, who helps with our website.
Thanks also to my employer, Safe & Just Michigan, for helping to support the DecarcerationNation podcast.
Thanks so much for listening; see you next time!
Decarceration Nation is a podcast about radically re-imagining America's criminal justice system. If you enjoy the podcast we hope you will subscribe and leave a rating or review on iTunes. We will try to answer all honest questions or comments that are left on this site. We hope fans will help support Decarceration Nation by supporting us from Patreon.